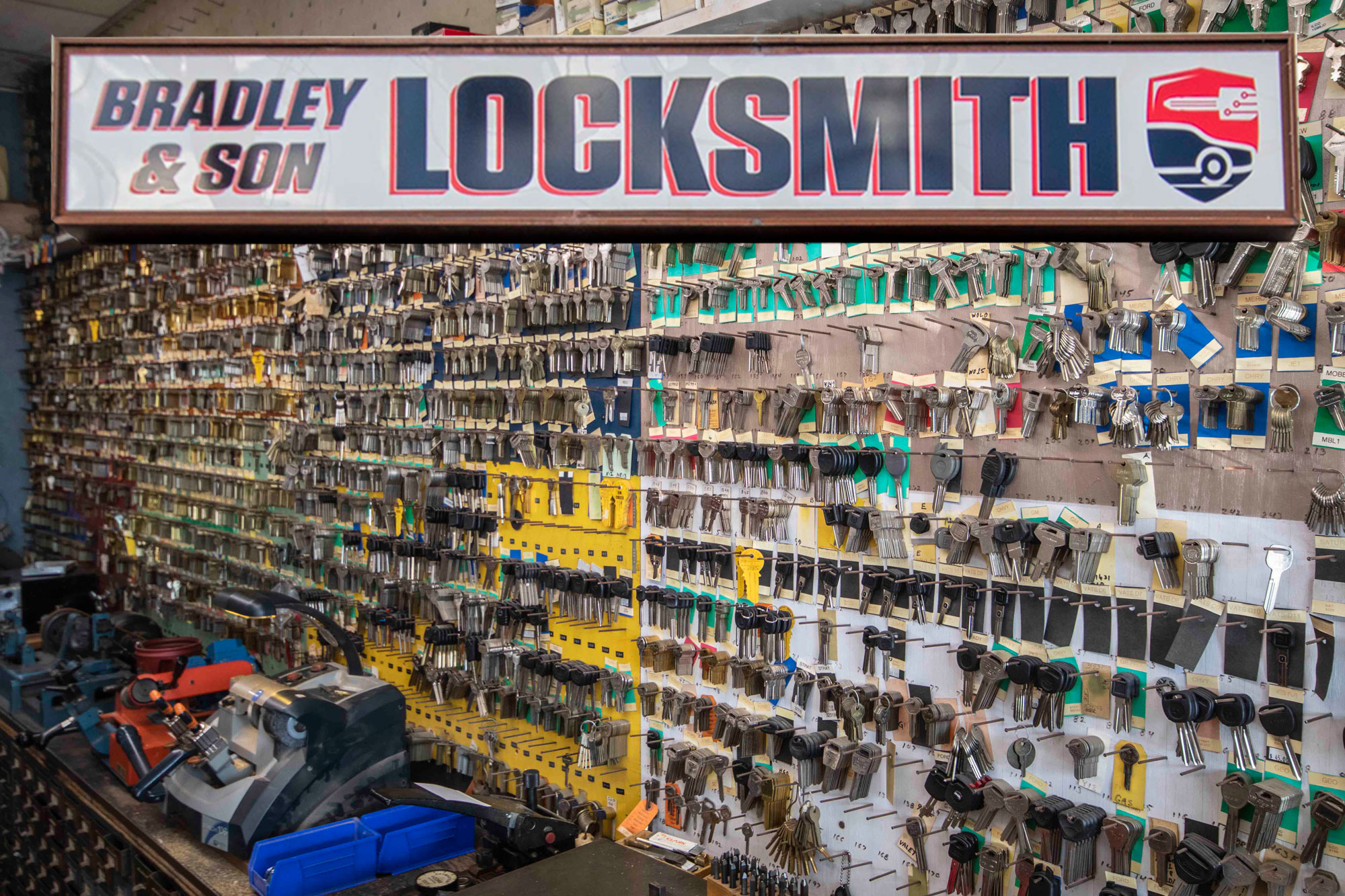 About W. T. Bradley & Sons Locksmiths
WT Bradley & Son Locksmiths was founded by Bill Bradley in 1948. After returning from WWII service in the South Pacific he continued his work as a cabinet maker. At the same time he began installing locks in the local area. As demand for locksmith services increased, Bill Bradley started WT Badley Locksmith working out of his home.
The first lock shop was established in Bridgeport in 1972. Three years later Jack Bradley joined his father Bill working at the shop after school. In 1975 that after school job became Jack's full time job. Father and son became partners moving from the Bridgeport location to the first Stratford location on Honeyspot Rd.
In 1999 the current location of 1756 Barnum Ave Stratford was purchased and is still the current home of WT Bradley & Son Locksmiths.
Rick Bayuk and Doug Laychak, W. T. Bradley & Son Locksmiths
W. T. Bradley and Sons Locksmiths is now owned by Rick Bayuk and Doug Laychak.
Rick is no stranger to locksmithing in the area. A locksmith since 1986, he started working in locksmithing for Norwalk Lock & Safe until 1989. At that time he started his own business and 11 years later started acquiring other lock companies whose owners were set to retire. By finding the right fit, Rick has grown several area businesses and operated several lock company's for the last 31 years.
Doug is also no stranger to the locksmith industry. Doug and Rick worked together in the early 1980's. It was there Doug introduced the lock work to Rick as Doug was head of maintenance of a local non profit company.  Doug went on to a 20 year career in the building industry before partnering with Rick on the acquisition and expansion of WT Bradley & Son Locksmiths.
Rick and Doug have been good friends since the age of 11. Together they bring a dynamic to WT Bradley & Son that they've had on all their endeavors together.
WT Bradley & Son Locksmiths brings Rick, Doug, and their crew back to the immediate area to expand WT Bradley & Son Locksmiths, as the founder, Bill Bradley saw in 1948, the increase in demand for honest, quality lock services has never been greater. The plans to expand into needed residential, auto and security keys as well as access control and accountability are now under way.
FAQ's

What makes W. T. Bradley and Son the best CT locksmith servicing the the towns of Stratford & Milford?
We are local, servicing all of Fairfield County and Stratford. We adhere to the strict standards set by our founder. No answering services, no sub-contractors. You will be dealing directly with us.

Do you have a location?
Yes! Our location is 1756 Barnum Ave. in Stratford CT. We are open 8:30-5:pm Monday Through Friday. We are closed Saturday and Sunday. Our showroom has all the latest hardware and safes on display and we can produce a key for just about anything. The largest selections of keys, we can help find the right key copy for anything.

What is your area of coverage?
We cover Stratford and Milford CT.